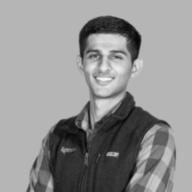 Hi there!
I'm currently an EiR at Lightbank, an early stage venture firm and studio in Chicago. I was previously on the investment team at the firm.

Before transitioning into VC, I worked in product management and software engineering roles at a few startups.

I studied Computer Science at the University of Illinois, studying abroad at Kungliga Tekniska Hogskolan in Sweden for a semester.

Feel free to reach me anytime: ali [at] afridi.io.
---
Blog
Getting Venture Capital Experience While Still in School (Sept 2016)

An overview of Chicago's tech ecosystem (July 2016)

Student Entrepreneur looking for Money? (Feb 2016)

Announcing Founders Microgrants (Jan 2016)

Which states do Product Hunt makers live in? (Dec 2015)

The University of Illinois' Startup Ecosystem (Sept 2015)

Tech companies started by University of Illinois alum (July 2015)

How much does it really cost to build a web startup? (Sept 2014)
---